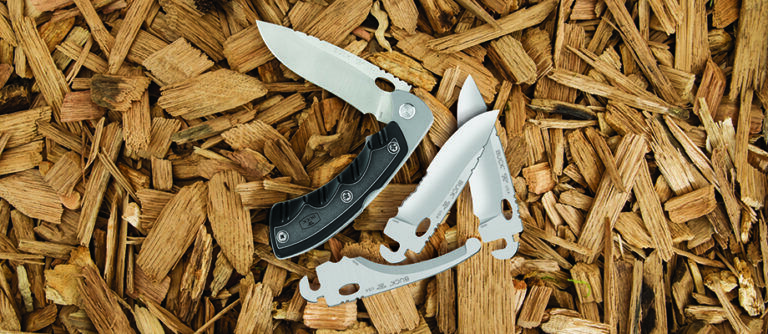 How to Choose the Right Knife
If you're looking to buy a knife but aren't sure which is the right one for you, you've come to the right page. Here we will help you find the exact material, blade and shape you want and need to have in your trusty tool.
The first step in choosing the right knife for you will be deciding exactly what you'll be using it for. Each knife has its own specifications and ensuring you pick the right knife for the job is important. Below we have listed each blade shape and the type of job they're most suited to:
Drop point – Strong, thick, for heavy tasks but also happy to be used as a general work knife. Very versatile, strong and precise.
Skinner - Exactly what it says; best used for skinning with its secure grip, short, thin and curved to keep from puncturing the hide/spearing the meat.
Pen - Pen knives are usually seen on pocket knives. An all-purpose, handy blade. Perfect for camping, fishing, first aid etc.
Coping - A narrow blade with a sharp angled point designed for cutting in tight spots or curved patterns.
Clip - With a thinner/sharper point it is good for detail work, cutting in tight places and intentional punctures (eg., new holes in a belt). Not as strong as blades with thicker points eg., drop points.
Caping - Very slim and light duty; used for delicate jobs so not always the right choice if you only plan on carrying one knife.
Serrations - Especially useful with cutting line or cables; huge cutting power.
Gut Hook - For hunting. Large belly is perfect for slicing and skinning. Careful attention has been paid to the angles, edge, shape and size to ensure a Buck gut-hook is the best.
Fixed - Blade knife is one solid piece of metal in a fixed position. If you're looking for a blade for tough jobs that you can trust, a fixed-blade is the best choice.
Folding - knife combines safety with the convenience of a space saver. Not all folding knives lock, but those that do will always be referred to by their locking mechanisms. A Locking Folding knife will lock the blade into position when fully opened. Lockbacks generally require two-hand closing.
Assisted - Opening knives means the user initiates the opening and a built-in mechanism completes it. These knives are not legal in the UK. Pocket-Knives are non-locking, compact, typically two-hand open/close knives. Great to carry with you for everyday situations.
420HC stainless steel - It provides superior corrosion resistance, fantastic strength, durability, quick and easy re-sharpening and medium edge retention.
5160 (or spring steel) - Excellent shock absorption making it resilient to shattering and extremely robust.
S30V – With high vanadium stainless steel it provides the absolute best in edge retention and strength. It has high resilience along with incredible corrosion resistance.